The one and only soup for busy individuals with
hectic schedules!
Boosts brain function and alertness
to keep you focused!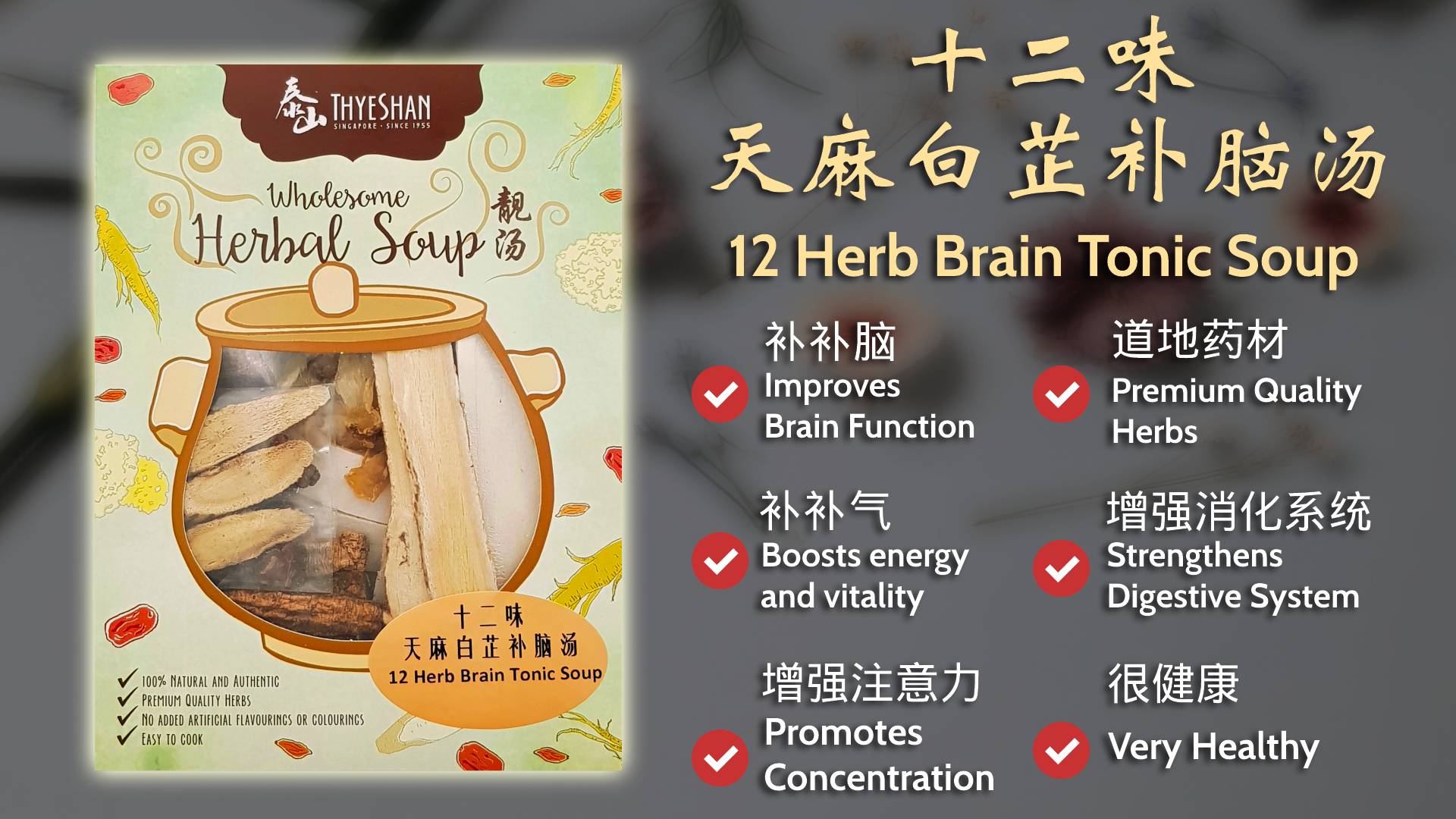 12 Herb Brain Tonic Soup 十二味天麻白芷补脑汤
Nicknamed Clever Soup for its benefits of improving alertness and promoting concentration. Convenient Chinese Soup Packet that is easy to cook for 2 to 4 pax.
Great tasting with minimal herbal taste, very suitable for children! Helps to nourish lungs and stomach besides just boosting brain function! This soup helps with strengthening digestive system and boosting energy levels with important nutrients from premium herbs such as Codonopsis Root (Dang Shen 党参) and Chinese Yam (Huai Shan)
Contains other premium quality herbs, such as Gastrodia Rhizome (Tian Ma) which helps to dispel wind, promotes circulation, and relieves dizziness and headaches, Angelicae Dahuricae Root (Bai Zhi) and Szechuan Lovage Rhizome (Chuan Xiong).
Functions: Improve alertness, promotes concentration, provides energy and vitality. Strengthens the digestive system.
Indications: Cook 1 pack a week.
What is in the box: 1 pack of 12 Herb Brain Tonic Soup 十二味天麻白芷补脑汤
Cooking Instructions
Rinse all soup pack ingredients.
Put ingredients in 2 litres of wate

r (Roughly 10 rice bowls in size).

Bring to boil and simmer for 1.5 to 2 hours.
Serve warm and enjoy.
Recommended additional ingredients:  American Ginseng, Walnuts or Pine nuts, Chicken or Pork to enhance the taste and smell of the soup!
Keep refrigerated
Vegetarian
100% Natural and Authentic
Premium Quality Herbs
No Added Artificial Flavourings or Colourings
Easy to Cook
Packaged and Made in Singapore
A Quality Product of Thye Shan Medical Hall