Our 5 Star rated specially formulated Crocodile Oil. Reviewed and Trusted by many.
★★★★★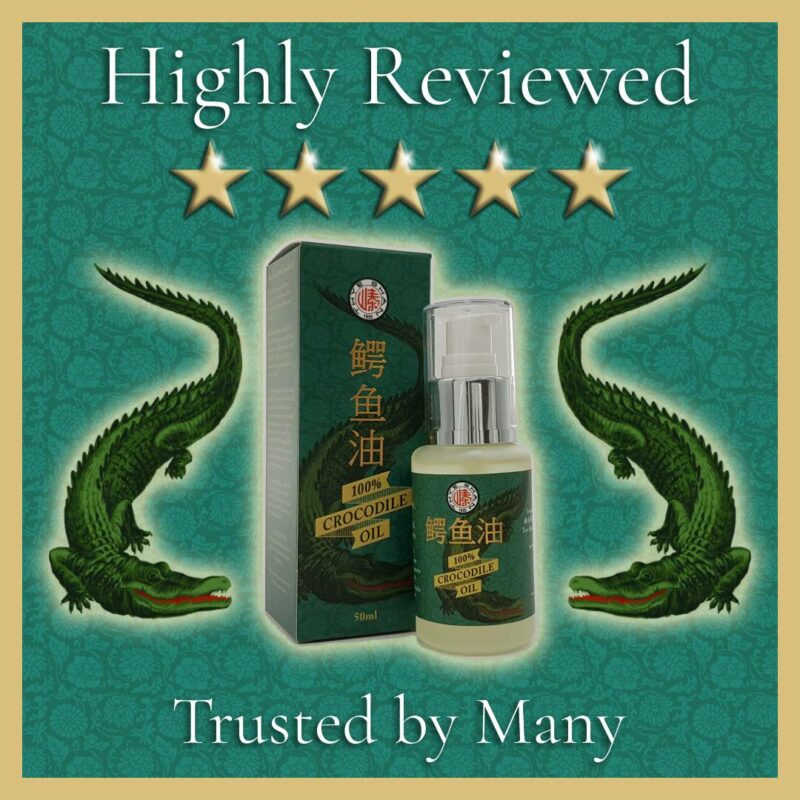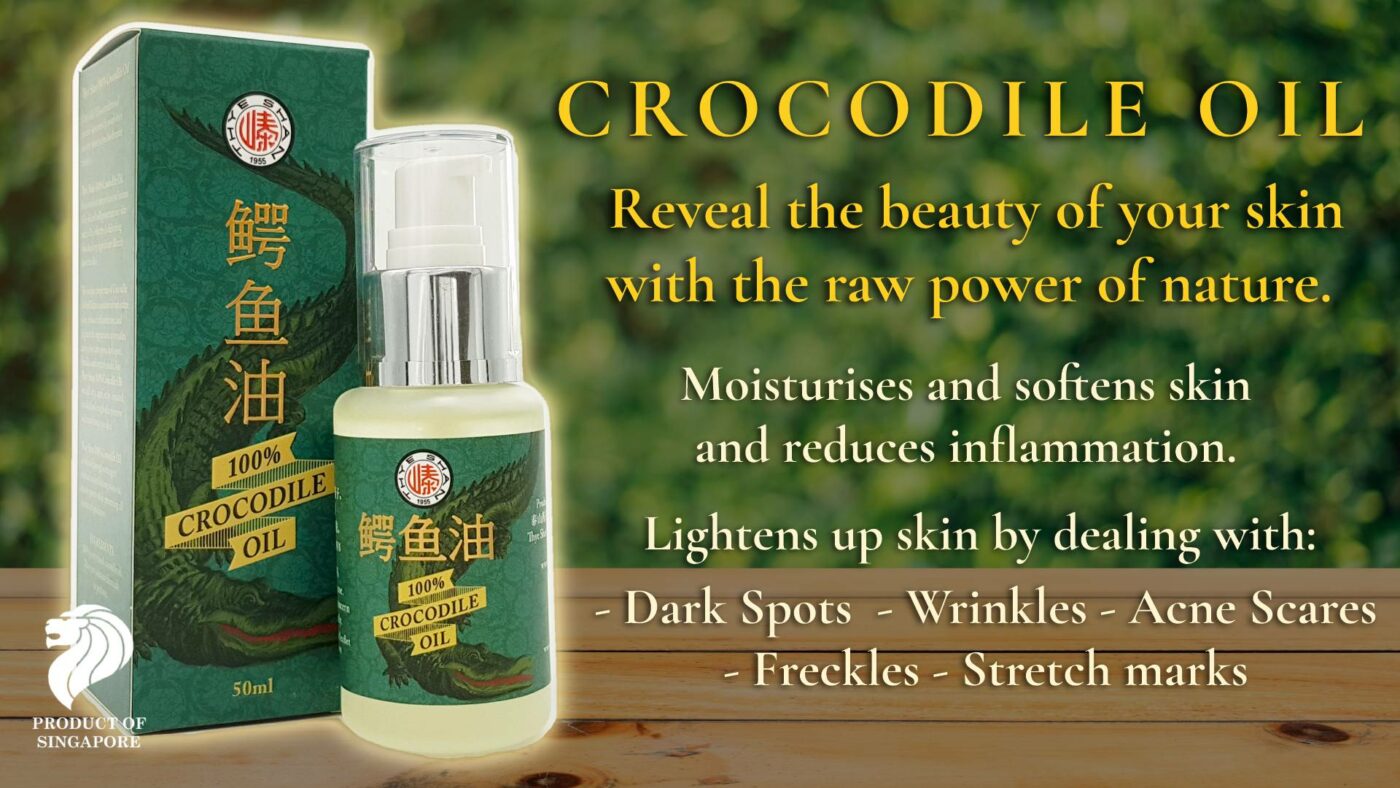 Crocodile Oil 50ml (Thye Shan) 泰山鳄鱼油

Introduction: Thye Shan Crocodile Oil is extracted from real crocodile fat. Crocodile Oil has very similar physical and chemical properties with human skin and fat. As such, this provides great permeability and full absorption by the human body. After applying, it gives our skin better immunity and protection. Crocodile oil also moisturizes and retains the fluids in the skin, keeping your skin radiant and beautiful. Crocodile oil can also stimulate the body's immune cells, reducing skin infection and inflammation. This is particularly effective for healing scars and repairing dry skin.
Product details: 100% Pure and Refined Crocodile Oil
Main Benefits: Moisturises and softens skin; Reduce inflammation; Lighten the appearance of wrinkles, acne scars, sun spots, dark spots, freckles and stretch marks;

relieves Eczema discomfort,

Renew and rejuvenate your skin; Calms and aids dull, dry, aged, itchy, irritated, cracked, inflamed or rough skin.

You may apply to the face or body. Safe for infants, adults, and even a remedy for pets.

Attention:

External use only.

It is normal for the oil to solidify or have sediments under low temperatures.
Premium Quality Assured: Made from real and sustainable crocodile blubber. Refined through a stringent molecular distillation process to ensure purity while preserving all its natural goodness.
Directions:

Shake before use. Apply a layer to the affected areas and massage gently

before sleep, similar to applying a leave on mask. For better effect, apply 3 to 4 times to the affected areas daily.
Features: All natural, No chemicals added, No additives or perfume added.
Manufacturer:

Made in Singapore

, Product of Singapore, Thye Shan Medical Hall.
Ethical sourced: We only source from CITES approved farms. This ensures sustainability, with no indiscriminate killing of crocodiles.
Why trust Thye Shan Medical Hall and their crocodile oil?
Thye Shan Medical Hall was founded in 1955 by Mr Chan Chak Poey who had migrated to Singapore from China's Guangdong province. Mr Chan was an apprentice in his Father's TCM Hall when he was growing up in Guangzhou. It is a family business and currently run by the 3rd generation.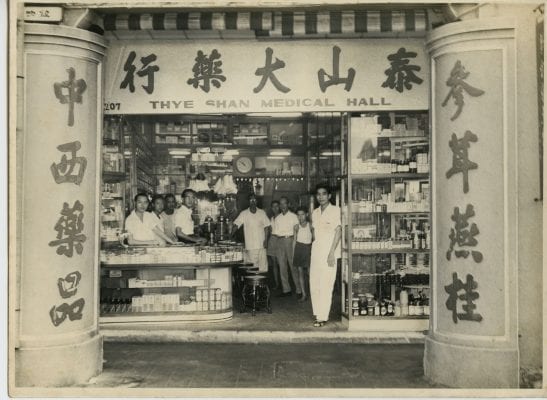 Thye Shan is in the business of providing quality Traditional Chinese Medicinal (TCM) products and services. With decades of experience, coupled with staff training, we are confident in providing you with only the best quality products and services. Thye Shan has 3 retail outlets in Singapore (2 in Chinatown and 1 in Takashimaya Orchard Road). Thye Shan also wholesales to many other outlets both locally and internationally.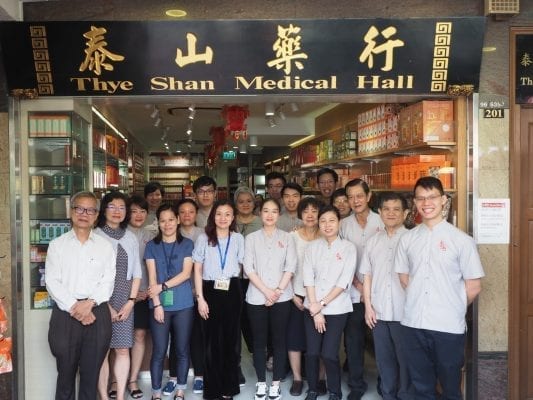 Thye Shan sells high quality premium herbs such as Birds Nest, Cordyceps, Ginseng, Dendrobium, Lingzhi, and other herbs sourced from the origin.
External topical medicines include: Medicated Oils, Balms, Patches.
Convenient Flower Tea series (Health Tea Series): Eight Treasures Floral Tea, Bright Vision Tea, Digestion Support Tea.
Top brand Chinese Proprietary Medicines (CPMs): Jin Qiang (金枪补肾丸) and Jin Feng (灵芝金凤丸) for males and females respectively.
Most popular herbal teas: Chrysanthemum with American Ginseng, Hawthorn Honey, 24 Herbs Assortment Tea.
Premium Seafoods: Abalones, Sea Cucumbers, Dried Scallops.
Delicious herbal soups: Eight Treasures Herbal Chicken Soup, Nanyang Bak Kut Teh, Premium Ba Zhen Soup, American Figs Nourishing Soup.
As a one stop Traditional Chinese Medical (TCM) hall, Thye Shan has a full suite of products and services, such as preparing prescriptions, to suit your needs.