End your tiring day with an Energy Replenishing Soup that calms the mind.
Another favourite from Thye Shan's
Wholesome Herbal Soup Series.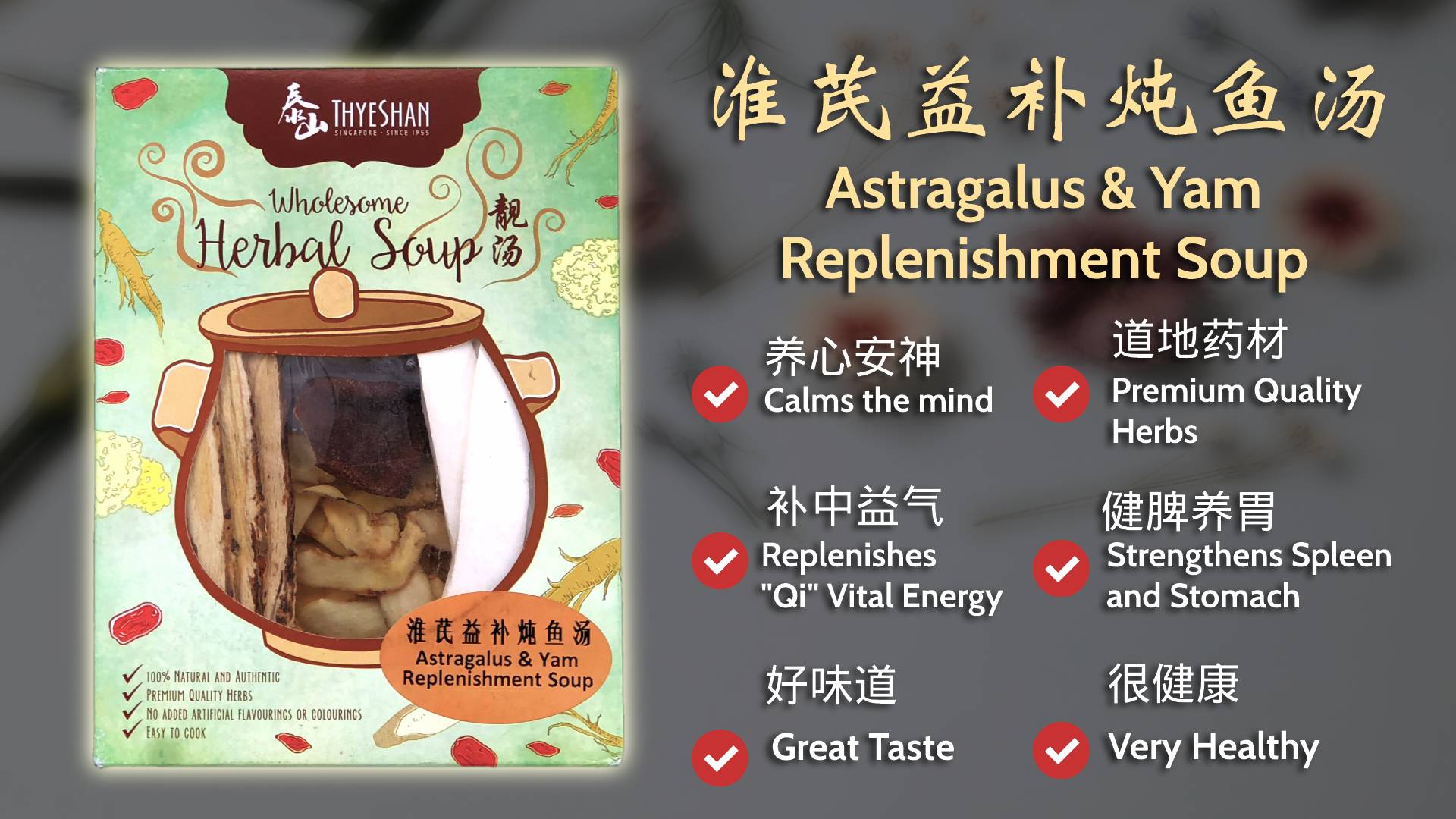 Astragalus & Yam Replenishment Soup 淮芪益补炖鱼汤
Ending a tiring day working or studying can be physically exhausting, so treat yourself to a great tasting soup that recharges your energy, while calming your mind so you can relax and unwind. Life is stressful enough, all you need is a warm, wholesome soup to give yourself a pat on the back.
Not just great for working adults, but also popular among kids and families!
Convenient Chinese herbal soup packet that is easy to cook for 3 to 4 pax.
Functions: Replenishes Qi "Vital Energy", Strengthens stomach and spleen. Calms the mind.
What is in the box: 1 pack of Astragalus & Yam Replenishment Soup 淮芪益补炖鱼汤
Cooking Instructions:
Put 1

pack of

Astragalus & Yam Replenishment Soup 淮芪益补炖鱼汤

in 1.8 litres of water (Around 9 rice bowls).

Bring to boil and simmer for:

1.5 – 2 hours if using Conventional Cooker

30 – 45 minutes if using Pressure Cooker

3 to 3.5 hours if using Slow Cooker

Serve hot and enjoy!
100% Natural and Authentic
Premium Quality Herbs
No Added Artificial Flavourings or Colourings
Easy to Cook
Packaged and Made in Singapore
Another quality product by Thye Shan Medical Hall
Disclaimer: The content of this website is provided for general informational purposes only and is not intended as, nor should it be considered a substitute for, professional medical advice. Do not use the information on this website for diagnosing or treating any medical or health condition. If you have or suspect you have a medical problem, promptly contact your professional healthcare provider.