Thye Shan Medical Hall is led by someone who is constantly on the prowl to learn new things and embrace change. There has been constant encouragement and support from Singapore's government on Skills upgrading and learning. In fact, SkillsFuture was announced and set up in 2015 to encourage all to embrace change and upgrade ourselves with the rapidly changing economy.
Despite his age of 67, Managing Director of Thye Shan Medical Hall, Mr Chan Kim Ying, embodies the attitude of continual learning and upgrading. In 2016, Mr Chan went for a course on Internationalisation offered by the Lee Kuan Yew School of Public Policy, with the assistance of the SkillsFuture Study Award offered by IE Singapore. Before this, he graduated with a Degree from Nanyang University in 1972, did a Masters in Business Administration in 1990, and also graduated with a Diploma from the Singapore College of Traditional Chinese Medicine. On a yearly basis, he attends courses and seminars to constantly keep abreast of the industry and business world.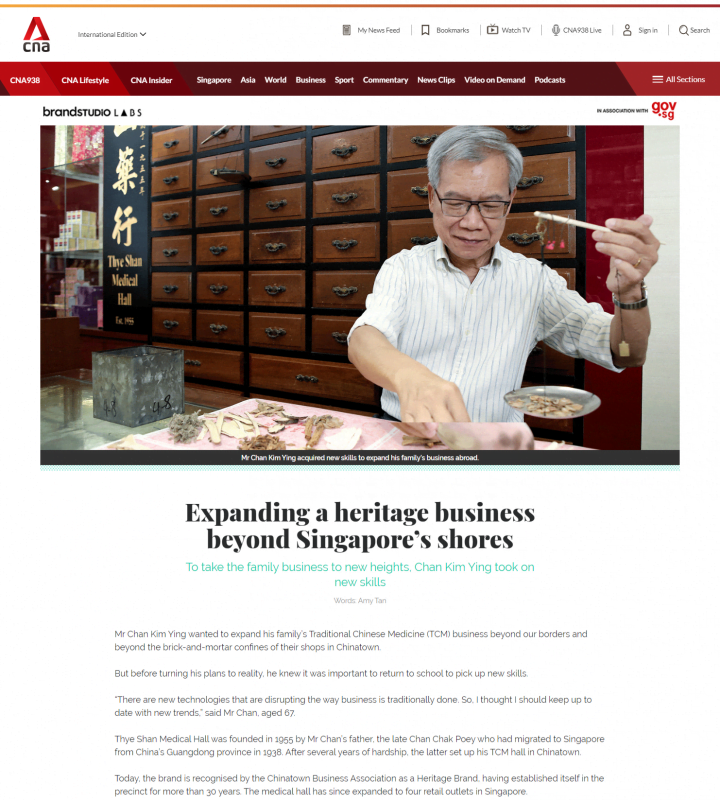 In 2016, Mr Chan was presented an award by Minister for Education (Higher Education and Skills) Ong Ye Kung.
Asked about how the courses helped him, Mr Chan replied "There are new technologies that are disrupting the way business is traditionally done. So, I thought I should keep up to date with new trends". As a lifelong learner, Mr Chan wants to set an example for his younger colleagues and show them that "Learning is a lifelong journey". He agrees that there will always be challenges. However, Thye Shan Medical Hall must continue to embrace change and keep up with the times to remain relevant in today's society and our customers.
Credits: CNA: "Expanding a Heritage Business Beyond Singapore's Shores"; The Straits Times: "Ong Ye Kung says education here not designed with dead ends, as 350 receive SkillsFuture Study Awards" 9 Jul 2016; The Straits Times: "'No dead ends' in education system" 10 Jul 2016; SkillsFuture Singapore (SSG), and Workforce Singapore (WSG) "Speech by Mr Ong Ye Kung, Acting Minister for Education (Higher Education and Skills) At The SkillsFuture Study Awards Ceremony Orchard Hotel" 9 July 2016.