Cordyceps Tibet KING 15g 西藏野生冬虫夏草皇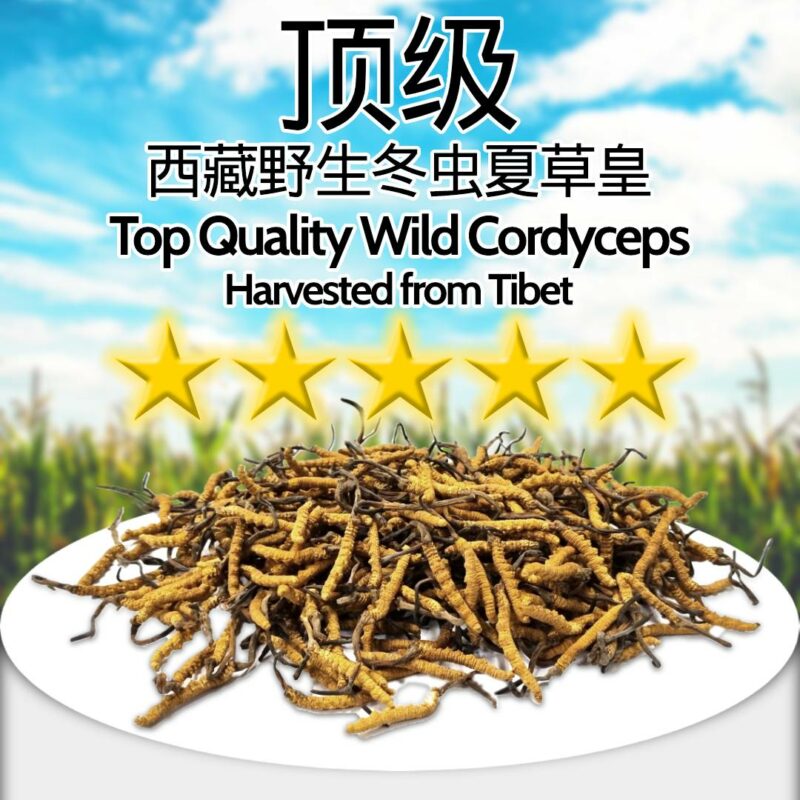 Services offered: We can assist to grind and mix with American Ginseng or Dendrobium (bought separately) as per your request. Upon grinding, we will place in a container and provide a small teaspoon. Do state your requirements in "Order Notes" section when checking out.
Also known as: Caterpillar fungus, Wild Cordyceps Sinensis, Yarsagumba, Yartsa Gunbu, Dong Chong Xia Cao, Chong Cao.
Introduction:

Cordyceps is a parasitic fungi that uses the larvae of insects as their host. The name 冬虫夏草 Dong Chong Xia Cao describes exactly of "an insect in Winter and a plant in Summer". First, spores from the fungus land on the insect (caterpillar) and germinate inside the host overtime. Once the fungus has consumed the insect, the mushroom will release spores by sprouting from the head of the insect.
There are many strains of Cordyceps. The most valued are the wild Cordyceps Sinesis which infects the caterpillar of the Hepialus moth. These are found in Tibet of extremely high altitudes in the Himalayan mountains. There are other variants from Qinghai, Nepal, Bhutan.
Cordyceps is highly priced for its amazing health benefits and the difficulty and risks in obtaining them. This is a precious tonic offered to Emperors in China.

Benefits:

Boosts energy. A precious herb in energizing the mind and body. Reduce fatigue.
Strengthen immunity
Strengthen lungs, improve respiratory issues
Strengthen kidneys
Improve athletic performance
Anti-aging
Suitable for all young and old.

功效:

 补肾益肺,止血化痰
是补肺益肾的上等补品。
滋补功效良多,老少咸宜,可帮助一家大小达到保健的效果。
和其他的药材一起炖煮,将有助于改善整体健康,提高免疫力,以及增强体力。
可以因个人需求或口味进行炖补材料的配搭。

冬虫夏草的益处:

加强呼吸系统及肺脏功能
改善久咳不愈和虚喘
增强活力
提升免疫功能
维持健康的肾脏功能

主治:阳痿遗精,腰膝酸痛,久咳虚喘,劳嗽痰血
Optional additional ingredients you may add:
建议材料配搭:

加入淮山 – 促进营养吸收。
加入杞子/红枣 – 除了有明目/补血之效,还为汤料增添天然清甜,口味也让小孩比较容易接受。
加入泡参 – 可以补气提神,提高活力。

Preparation:

Double boil. Can add chicken meat.
清炖或加肉类炖煮也合适。

Especially good for:

Health General wellness: a supplement to improve immunity
Working adults facing high stress: improve immunity, energy and hence concentration. Suggest to add American ginseng to further boost efficacy and energy.
Sport Athletes: Improve lung performance and endurance. Suggest to add American ginseng to further boost efficacy and energy.
Young children or elderly: aids cough and asthma. Helps with long periods of cough and breathlessness. Also improves immunity.

推荐对象:

普通大众:保健,增强免疫功能。
上班人士(高压力群):压力会影响免疫力。因此上班人士需要提升免疫功能,进而减轻疲劳。建议加入泡参炖煮,可以提神补气。
运动人士:虫草有助于改善虚喘。炖煮时加入泡参,有助于补气,进而提高活力。
小孩/年长者:常有咳嗽,气喘。炖补虫草可以改善久咳不愈和虚喘,提升免疫功能。

Product details 产品详情:

Place of Origin: Tibet
原产地:西藏

Wild Cordyceps, Tibet KING Cordyceps 15g 西藏野生冬虫夏草皇

36-38 pieces of Cordyceps

Storage: Please store in Freezer to maintain freshness.

储藏:购买后请冷冻收藏
Suggest to leave a 2 hour gap between Chinese Herbal products and Western medicine, drugs or supplements.
Whats in the box: 15g of Cordyceps Tibet KING Cordyceps 15g 西藏野生冬虫夏草皇 with a drying agent.
Suitable for all ages
Convenient
Product of Thye Shan Medical Hall 泰山药行出品
Here is a detailed article on Cordyceps from Realmushrooms: https://www.realmushrooms.com/cordyceps-supplements-guide/
Disclaimer: The content of this website is provided for general informational purposes only and is not intended as, nor should it be considered a substitute for, professional medical advice. Do not use the information on this website for diagnosing or treating any medical or health condition. If you have or suspect you have a medical problem, promptly contact your professional healthcare provider.